The course consists of 5 modules, each helping you to work bringing the Fashion Revolution Manifesto to life.
---
Module 1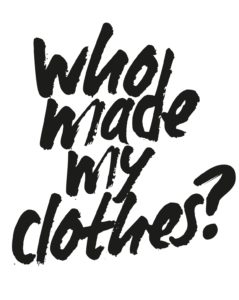 "Clothes are our chosen skin. We communicate who we are, to a certain extent, through clothing. It is fundamentally a part of what we wish to communicate about ourselves to the world" Orsola de Castro in The True Cost movie.
Finding out 'who made my clothes?' tells us more about ourselves, who we are and who we could be.
#WhoMadeMyClothes​
---
Module 2

Recognising the environmental impacts of fashion industry on global scale
#WhatsInMyClothes
---
Module 3


#WhoMadeMyFabric
---
Module 4


#GoodClothesFairPay
---
Module 5
LOVED CLOTHES LAST
#LovedClothes Last