(English)
Project RecyCOOL
Let's Stitch Up The Imperfections
Project RecyCOOL! Let's Stitch Up The Imperfections is an Erasmus+ project devoted to current fashion industry and its impact on environment and social areas. The project creates an online educational platform and its outputs are educational methodologies and curriculums on these topics, created by experts in Slovakia, Czech Republic and UK. The information guarantor is upcycling expert Orsola de Castro, co-founder of Fashion Revolution. In the project are participating country coordinators for Slovakia Martina Marekova Kuipers and for Czech Republic Zuzana Rysava, as well as Katarina Peterova and Veronika Habalova (pedagogic experts), Simona Necasova (event manager and first FR country coordinator for Slovakia), Romana Tomaskova (enviroactivist), Veronika Mihalikova (fashion designer), Leisan Mukhametzianova (stylist), David Severa (educator and curator) and Eva Prokopova (fashion designer).
(Slovensky)
Projekt RecyCOOL
Zašime nedostatky
Project RecyCOOL! Zašime nedostatky je Erasmus+ program vytvárajúci edukačnú online platformu zaoberajúcu sa súčasným módnym priemyslom a jeho dopadmi na životné prostredie a sociálnu sféru. Výstupmi sú metodológie a kurikulá na vzdelávanie v tejto téme, ktoré sa tvoria odborným tímom na Slovensku, v Čechách a Veľkej Británii. Informačným garantorom projektu je samotná Orsola de Castro, zakladateľka Fashion Revolution, svetová kapacita na upcykláciu. Na projekte sa podieľajú koordinátorky Fashion Revolution pre Slovensko a Čechy, Martina Mareková Kuipers a Zuzana Ryšavá, ako aj Katarína Peterová a Veronika Habalová (pedagogické expertky), Simona Nečasová (event manager a prvá FR koordinátorka pre Slovensko), Romana Tomášková (enviroaktivistka), Veronika Miháliková (módna dizajnérka), Leisan Mukhametzianova (stylistka), David Severa (edukátor a kurátor) a Eva Prokopová (módna dizajnérka).
Outputs of the project are tested on platform Young and Eco, which is a project founded by Henrieta Zezulova and Michaela Sucha.
Young & Eco program has three levels:
Výstupy projektu sú testované na platforme Young and Eco, čo je projekt založený študentkami Michaelou Suchou a Henrietou Zezuľovou.
Young & Eco program zahŕňa tri stupne: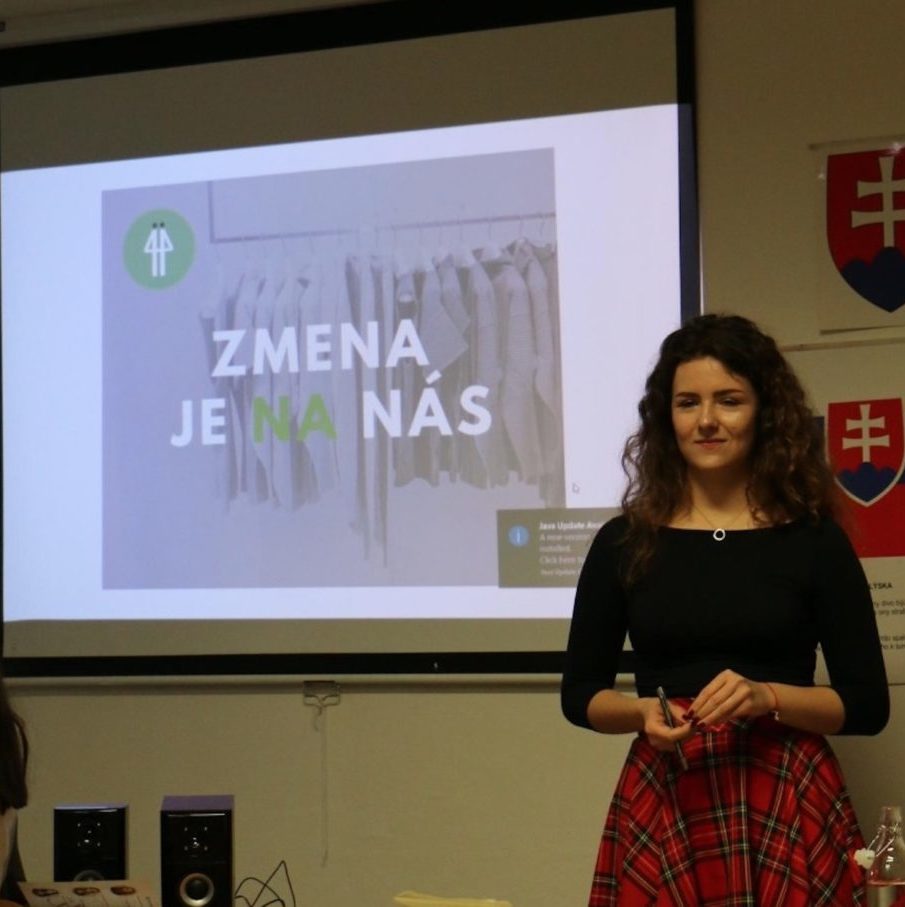 Introduction into the fashion industry and its impacts – workshops and presentations
Úvod do módneho priemyslu a jeho vplyvov – prednášky a semináre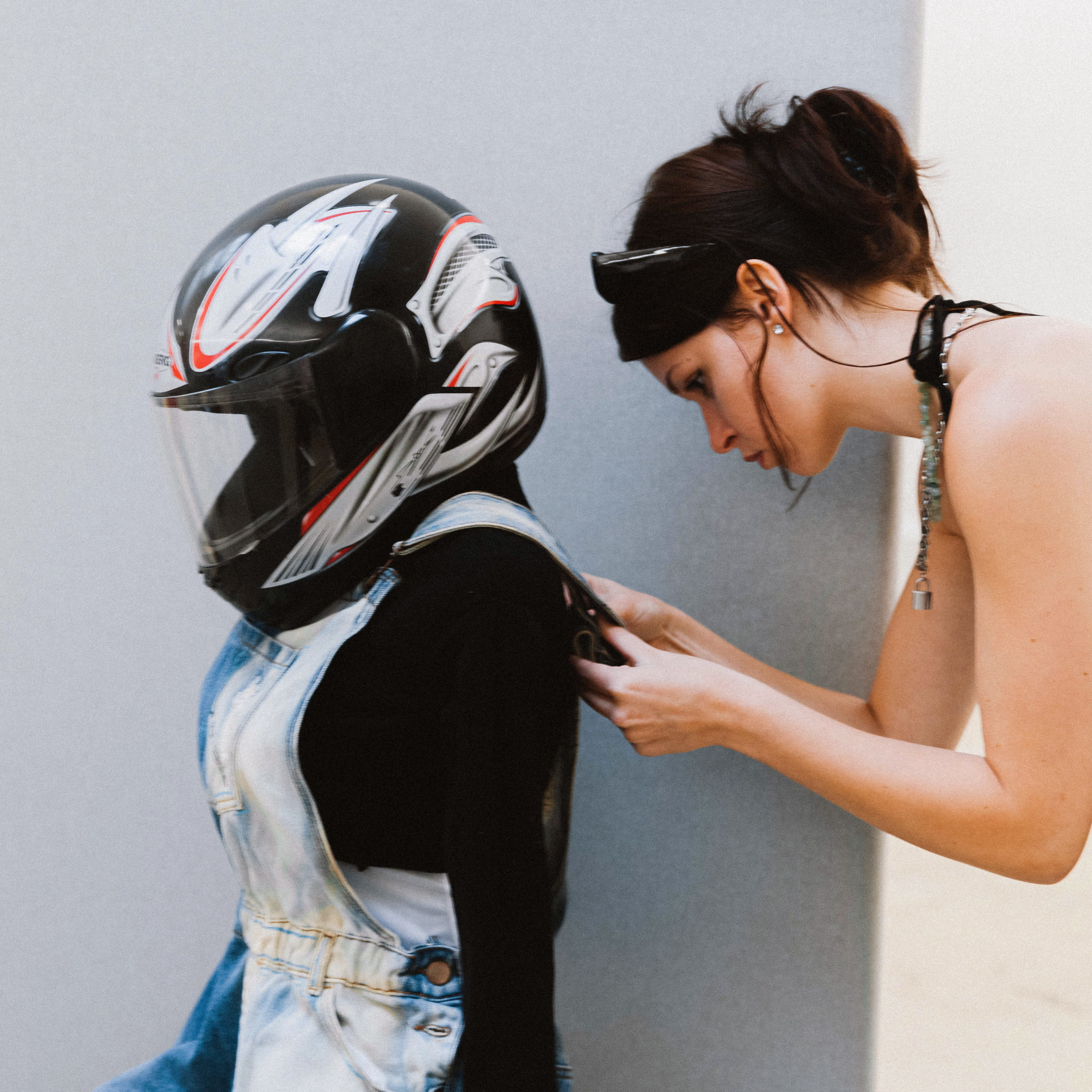 Creating own clothing from secondhand materials
Vytvorenie si vlastného oblečenia zo second-hand materiálov
Presentation of made clothing during sustainable event
Prezentácia vytvoreného oblečenia na udržateľnom podujatí
Following Fashion Revolution mantra BE CURIOUS – FIND OUT – DO SOMETHING and based on Young & Eco pilot in school year 2018/2019, we realised that we need to create and provide methodologies and manuals to allow other educators replicate and repeat this successful program.
Na základe mantry Fashion Revolution BUĎ ZVEDAVÝ – OBJAVUJ – KONAJ a na základe pilotného Young & Eco programu v školskom roku 2018/2019 sme si uvedomili potrebu metodík a manuálov, ktoré by umožnili tento program reprodukovať a opakovať i ostatnými edukátormi.
So what is that all about?

We are organising educational days at secondary schools – around 4 lessons including presentation, screening and workshops. Students are introduced to new terminology such as sustainable fashion, slow and fast fashion, they are presented with opinions of local designers on current fashion scene, they get closer to the life behind the value chain and people in it through non-formal activities.
If they are interested, they can continue in second part of the program and sign up for an upcycling mentoring, provided by three local designers. In this part participants make their own clothing from second hand materials. Designers help them to achieve the dream outfit and lead them on their way while creating.
Na školách organizujeme edukačné dni – približne 4 vyučovacie hodiny zahŕňajúce prednášku, premietanie a workshopy. Študenti sa tak zoznamujú s pojmami ako udržateľná móda, fast a slow fashion, predstavia sa im cez video názory popredných slovenských dizajnérov na súčasnú módnu scénu, cez aktivity neformálneho vzdelávania sa im priblíži život ľudí v textilnej výrobe.
Ak táto téma študentov zaujme, majú možnosť sa zapojiť do druhej fázy projektu, nahlásiť sa a pod mentoringom troch slovenských odborníčok na upcykláciu a módu môžu skúsiť vytvoriť vlastné oblečenie zo second-hand materiálov. Ide o sériu konzultácií, na ktorých im dizajnérky poradia a pomôžu dopracovať sa k vysnívanému modelu.
Intellectual outputs of the project RecyCOOL! Let's Stitch Up The Imperfections are manuals providing information on how to organise similar activities dedicated to educators and young people.
Online Course
Fashion Activities
Design Mentoring Manual
Manual for Organising a Sustainable Event
Intelektuálnymi výstupmi projektu RecyCOOL! Zašime nedostatky sú manuály umožňujúce zorganizovanie podobných aktivít, určené pre edukátorov a mladých ľudí.
Online kurz
Módne aktivity
Manuál dizajnového mentorovania
Manuál na organizovanie udržateľného podujatia
These will be available at the project end as an open-source materials in Slovak, Czech and English.
Project coordinator: Nitka (SK)
Project partners:
Fashion Revolution CIC (UK)
Fashion Revolution Czech Republic (CZ)
Fashion Revolution Slovakia (SK)
Tieto budú dostupné na konci projektu ako open source materiály v slovenčine, češtine a angličtine.
Koordinátor projektu: Nitka (SK)
Projektoví partneri:
Fashion Revolution CIC (UK)
Fashion Revolution Czech Republic (CZ)
Fashion Revolution Slovakia (SK)
---
Chcete vedieť viac alebo zorganizovať program pre mladých?
Prídite osobne na naše stretnutia
Online workshop 28 decembra 2022 – vidíme sa na linku
https://us02web.zoom.us/j/87475180710?pwd=ZXhHMnE1ZGtrM2h6L0tuNGsxZmRVUT09
Stretnutia sa organizujú v Českej Republike a na Slovensku, môžete sa príhlasiť na ktorýkoľvek bez ohľadu na vašu národnosť alebo krajinu, kde sa koná – všetci sú vítaní!
Jednodňové semináre
Organizujeme semináre, kde predstavíme program aj jeho časti a podporné materiály. Stretnete nás tu:
Zlín 19.11.2022
Žilina 22.11.2022
Banská Bystrica 23.11.2022
Praha 25.11.2022
Praha 26.11.2022
Olomouc 26.11.2022
Prešov 29.11.2022
Košice 30.11.2022
Brno 3.12.2022
Bratislava 7.12.2022
Trojdňový tréning
Organizujeme tréning na hlbšie oboznámenie sa s materiálmi, ako tento program realizovať a adaptovať pre Vašu cieľovú skupinu. Otvorené pre edukátorov, pracovníkov s mládežou a mladých ľudí, ktorí by chceli tento program realizovať s rovesníkmi.
Miesto a dátum:
Bratislava 2.-4.12.2022
Brno 9.-11.12.2022
---
This project is supported by Erasmus+
Programme: Erasmus+ / Key Action: Cooperation for innovation and the exchange of good practices / Action Type: Strategic Partnerships for Youth
Project Reference: 2019-3-SK02-KA205-002306